Animated Character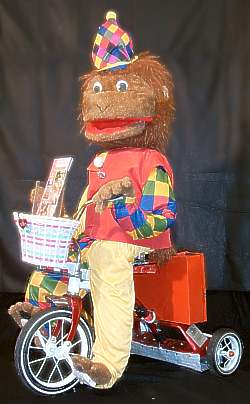 Roni the Orang-utan

The children's entertainer's monkey is an animated character - like ventriloquist dummies where you can't see the ventriloquist.

Roni the Orang-utan is a life-sized robot is a remote-controlled, battery-powered unit that rides a tricycle. This hairy robot talks & hears via wireless microphone system and has automatic mouth movement in sync with the sound. The robotic monkey's head is also turned by remote-control.

The children's entertainer's robot is equipped with various optional accessories such as a voice modifier, a remote-controlled horn and cassette player.

This mobile robot is extremely effective in situations where you want to 'stop traffic'. Robot Roni makes a lasting impression at trade shows, parades, school's anti-drug safety programs, carnivals, etc.. This highly mobile robot can get anyone's attention by driving up to them (or chasing them down) and starting an interactive conversation.

Specs
Remote controlled vehicle
Standard Equipment:
Standard "Hairy" Character Robot
Remotely controlled vehicle: Standard Tricycle (L-30", W-21", H-45")
Remote controlled head rotation

Wireless Microphone system: The children's entertainer is equipped with a transmitter and microphone that allows the children's entertainer to speak through the hairy robot character, Roni Orang-outang. The hairy character's mouth movement is automatically synchronized with the children's entertainer's voice.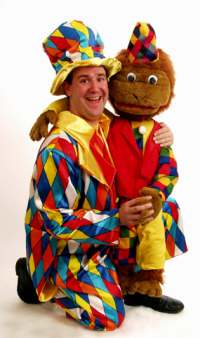 Kids Party Talkback system(hearing) with headset: A microphone and transmitter on the hairy character and receiver and headset worn by the children's entertainer enables the children's entertainer to hear what children are saying to the robot.

Battery/Charger: 7 AMP battery for tricycles. Each with approximately a 6 hour run time.

Cassette Tape Player: An auto-reverse tape player that is remotely controlled on mobile robots. The children's entertainer can use any standard cassette to play music or pre-recorded messages.

Voice Modifier: Electronically modify children's entertainer's voice to sound like alien, robot, monster, or normal by simply changing a four position switch. This is a belt-pack system.

Siren Alarm: Mobile robot is equipped with a remotely controlled attention-getting noisemaker.

The children's entertainer's robot is a powerful educational tool.

Unfortunately, your audiences may not always be as attentive and receptive as you would like. The children's entertainer's robot will help make presentations memorable and entertaining, and keep your audience riveted to the topic.

This style of robot's uses are endless by law-enforcement agencies... fire departments... schools... health agencies... museums... libraries... hospitals...for...anti-drug programs... seat belt buckle up campaigns... 911 training... safety messages... bicycle helmet safety... street crossing training... anti-smoking campaigns... railroad danger awareness... kindness programs... recycling education and training... nutritional training... stranger danger awareness... literacy campaigns... environmental awareness programs... reading programs... and many, many more!

Innovative engineering and durable construction ensure reliable and maintenance free operation, a wide array of customized options offer flexibility for a variety of presentation possibilities. The original creator of these remotely controlled robots for education, entertainment, advertising and promotion and has been manufacturing and marketing high-quality, reliable robots since 1966 in the USA.

When robots talk, people listen! Make your presentations unforgettable with a robot.

Make a lasting, positive impression on customers.

Entertain patrons in an inexpensive, reliable, hassle-free way.

Use a ROBOT for your entertainment needs.

People of all ages remember unique entertainment -- especially if it's interactive. Unlike people in costumes, using a robot for entertainment is unique -- and the children's entertainer's robot is interactive.

Roni the Orang-utan Robot is being used in just about any setting imaginable to entertain people. In restaurants it is used, providing a unique, inexpensive way to amuse people while they wait to be seated or enjoy their meal. This hairy robot can also provide information about menu specials, or make that birthday or anniversary celebration a really special and memorable occasion.

In amusement parks and family entertainment centers the children's entertainer's robot provide that distinctive, fun-filled encounter that everyone remembers.

The children's entertainer's robot performs in shopping centres and supermarkets to entertain children while their parents shop -- and kids bring the adults back time and again to visit their favourite attraction.

From playing Happy Birthday or your favorite '50s rock songs, the mobile robot in furry, cuddly, life-size character spinning around talking and entertaining.

The Mobile Robot is the most effective for entertainment.

Successful uses of robot for entertainment are:

* Amusement parks for special attractions
* Restaurants to entertain customers in the lobby and dining area
* Nightclubs for in between live bands or full-time!
* Department stores to entertain children while their parents shop

kids bring the parents back time and again to visit the robot
* Birthday parties and Bar Mitzvahs at Bowling Centers, Skating Centers and Retail Companies


Create a unique and lasting impression with your customers.

Capture everyone's attention -- even skeptics.

Use a the children's entertainer's robot in your advertising and promotional campaigns.

This hairy robot "stops traffic" and effectively present important commercial messages to potential customers.

Need to stop traffic at trade shows and present your company's message in a way that will be remembered? Use a robot.

Need to present special, repetitive messages to potential customers in storefronts, at open houses, grand openings or special events? Use a robot.

Need to create a unique and memorable impression in ways that will distinguish your name and your message from the competition? Use a robot.

Our robot has been used effectively in trade show exhibits, parades, fairs, carnivals, school functions, T.V. ads, grocery stores, real estate agencies, retail malls, gift shops, and car dealer showrooms. In other words just about anywhere you may want to make a special and lasting impression on your customers.

Successful applications of robot for advertising and promotions are:

* Trade shows
* T.V. commercials
* Promotions and schools, parades, shopping precincts
* Retail Stores
* Car Dealers
* Grand Openings
* Political Campaigns
* Mascots for schools, businesses, sports teams