Compere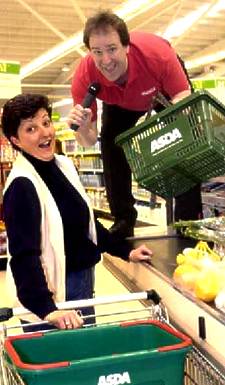 At the drop of a hat (because the Children's Entertainers multi-coloured top hat would be out of place) the Children's Entertainer is transformed into the professional compere, presenter, Master of Ceremonies with radio mic and PA system for wedding breakfasts, receptions, product launches and birthday parties.

The Children's Entertainer wears the correct clothes as an experienced promoter ideal for your promotional event to transform your service or product promotion into an outstanding success.

Being a full-time professional, the Children's Entertainer knows the dress code when in the role of the compere. Using radio mic skills to brilliant effect we can successfully promote your products or services to a large audience. The Children's Entertainer will be dressed as a promoter working to exceptional standards with a friendly, warming personality.

Music to suit your promotional event, state of the art hardware and equipment allows a wide range of music to be used to suit all your customers, from past favourites through to the latest chart hits. The music is expertly tailored, using the latest software, to your customer's age range as well as complimenting your company's image. The music volume can be adjusted to suit your needs.

State-of-the-art sound & lighting

The disco/pa system comes with the latest laptop computer decks providing excellent sound quality. If required, the Children's Entertainer has spectacular overhead FX lighting (sited above the disco laptop) to add visual appeal to your promotional event and roadshow trailer stage with generator (should there be no access to 240 volts mains electricity) to take the compere & disco out to the public meeting and greeting them as they arrive. All disco/pa amplification equipment is backed-up and regularly P.A.T tested for safety.

Guaranteed reliability.

Written confirmation of your event and replacement Compere/Promoter cover, so should your Presenter/MC fall ill your Promotional Event doesn't suffer as a consequence. For further peace of mind the Children's Entertainer's vehicle is recovery covered, the Children's Entertainer has public liability insurance and is available 7 days-a-week.