Magician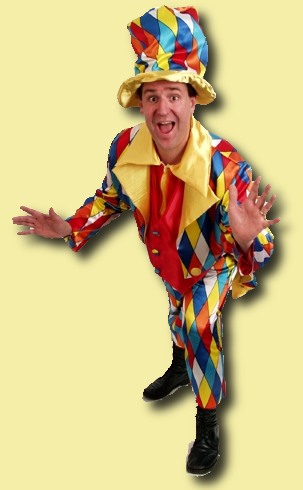 The Children's Entertainer when playing the role of a wizard can offer four styles of magic.

1. Mix & Mingle Magic children's magic working out of the pocket.

2. Close-up Corporate Magic entertainment with performer moving from table to table where clients are seated - presenting at every table fast 5 minute spots right under your guests noses or by performing stood up, walking amongst guests having their reception drinks.

3. Children's Magic Seated Comedy Show. The most often style used at birthday parties. Mainly suitable for 3 - 11 year olds. By and large for a full day affair artist alternate 30 minutes on, 30 minutes off for spells longer than an hour.

4. Magic Cabaret combining comedy patter & large illusions. One 40 minute show with PA system and assorted stage illusions for example buzz sawing a lady in half.

The four styles are not narrow restrictions. There have been social events where it is the birthday child's Mother that is sawn in half.

The Children's Entertainer has a stage wardrobe ranging from evening dress to circus clown so is able to blend in or stand out where appropriate.

Due to his vast experience after thirty years performing magic at children's parties there is probably nothing that as a magician the Children's Entertainer has not faced in the line of party audience's at a child's birthday. The Children's Entertainer is therefore qualified to adjust the conjuring tricks in every performance to the key stage of any specific party guests. In addition the Children's Entertainer is a specially good magician for family gatherings at occasions like as shop openings, garden fêtes, school PTA fund raising and wedding receptions where different aspects of the same magical effect are aimed at various ages in the crowd. The Children's Entertainer's magic has broad appeal.

The Children's Entertainer uses comedy and fun in the Magic Show. The Birthday Child is transformed into the magic show star performer at Birthday Parties, winning balloon animals in their role of magician's assistant helping perform the magic. The Children's Entertainer also gives them a surprise birthday present of his double feature Punch and Judy/Hazel Witch and Curly Locks DVD.

The Children's Entertainer uses lots of audience participation in the magic show and sweets so the other children in the audience will not be neglected. Everyone can win sweets and balloon models.

At the end of the party after the Children's Entertainer has magically produced a bunny rabbit with the help of magical assistants out of the audience the Children's Entertainer will blow up and give away to every child a puppy dog balloon animal or balloon sword for them to take home in one hand with the slice of birthday cake in the party bag supplied by the Children's Entertainer in the other. If any of the children's parents are a little late picking up their children can always stroke the pet bunny rabbit.

This is a fast moving funny show of magical conjuring with the children's participation.

Show times can vary according to requirements.

A magic show that entertains all ages, includes balloon modelling and animal production.