The favourite children's entertainer's website.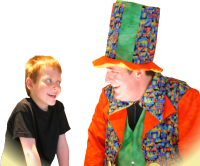 Despite the fact the children's entertainer is legendary for being the life of the party, in contrast to some cabaret stand-up comedians, the children's entertainer does not make fun of the audience, so has shows suitable for all ages from tiny tots to teenagers.
The children's entertainer, the multi-talented professional performer who's performance skills are so diverse they are listed here alphabetically making child's play out of the one stop shopping selection for your own combination of kid's entertainment producing a perfect party package, covers the UK with 30 years experience from entertaining children as far north as a roadshow disco in Fraserburgh Aberdeenshire, as far south as Punch and Judy in Brighton Sussex and thousands of venues in between for reasonable prices.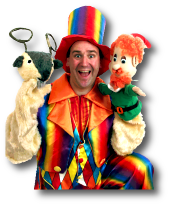 However, the children's entertainer is able to provide a great deal in addition to the children's birthday packed with party dances and musical games of the funky fun disco. Any time kids need entertaining, the children's entertainer has the perfect package that's bang on for your big bash - from anniversary to balloon workshop, from christening to dinner dance, from educational show to festival, from graduation ball to hullabaloo, from inauguration to juggling workshop, from karaoke to launch, from meeting to night out, from one on one to powwow, from quiz night to rendezvous, from shindig to turnout, from union to variety, from weddings and Xmas to anything beginning with Z.
Click on the links to the left of this page to source the children's entertainment combination that's conjured up for you.
What our customers say
"Re: Disco Adel Stables 18/03/2007 Thanks for the entertainment, you did a good job keeping the kids entertained."

Chris Hitchen