Balloon Modelling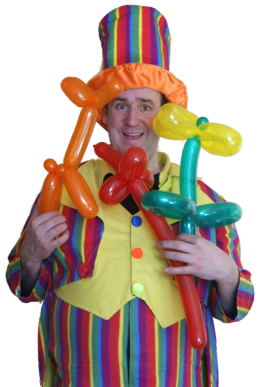 A Balloon Modeller is an artist producing astonishing sculptures using special latex modelling balloons. Every child enjoys receiving a balloon bent to look like an animal or something that they know and parents love looking at the balloon artist in action.

Balloon twisting, balloon modelling or balloon sculpture to use a classy name for having loads of laughs with balloons. The Children's Entertainer blows up a long thin tube of latex, bends it into baby sausage bubbles and before long it looks like something completely different.

The Children's Entertainer has been providing balloon twisting model artists all over the country for three decades and is an experienced modeller of balloons and capable of twisting balloons into everyone's favourite models including swords, sausage dogs, flowers, puppy dogs, elephants, hats, poodles, head mics, giraffes and swans.


For those busy occasions the professional Children's Entertainer can provide numerous balloon modellers or balloon artists who are able to craft all kinds of designs from balloons that children adore. Children's most favourite balloons, for boys are pirate swords and flowers for the girls. The Children's Entertainer is available as balloon modeller for every one of your events and will entertain children young and old holding their attention for ages.


Helium balloons are a colourful display to add to your event with balloon arches, table decorations in addition to individual ballons for each guest to take home. They are available in every colour in latex and foil balloons have many designs.


For decoration advice and pricing free phone on 0800 3357175.