Face Paint Artist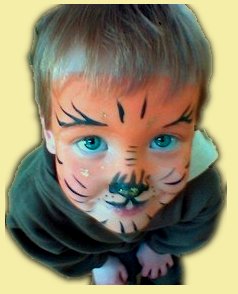 Airbrush, Face Paint Artist

The choice of air brush facepainting or traditional sponge and brush facepainting has an impact on the number of faces the children's entertainer can do in a limited amount of time as well as the type and style of work the children's entertainer is doing, it is also a consideration with respect to the age of the children and what the party host needs to do to set up for the children's entertainer.

Hand painting faces is very unique and creative. It is appropriate for most venues. The children's entertainer can paint between 13 and 18 fullface or cheekart designs in an hour. Each design is hand created.

Airbrush painting using airbrush stencils can paint upwards of 45 to 60 designs and tattos in an hour. The designs are limited by the number of stencils the children's entertainer uses. It is very safe to use our specially formulated make-up to air brush designs on your face, skin or hair.

It is made of FDA approved, cosmetic grade materials and is specially formulated to be used in airbrush equipment. It is water based and easily washes off with mild soap and water and designed to be safe and non-irritating. The children's entertainer's glitter is specially made for face painting. There is no metal used, only soft materials, so it can't scratch the skin or eyes.


Types of Art Work:


Full Face Anytime a large portion of the face is covered, I call it full face painting. Also, if a base coat of paint is applied to the entire face, I consider it full facepainting.

NOTE: It takes about the same amount of time for Full Faces or Cheekart. Many cheekarts actually take longer than full faces.

Parts This is often rolled into cheek art category. It includes temporary tattos on arms, legs, hands, neck, shoulders, backs, bellybuttons, feet, etc. Usually it refers to doing designs in a limited scale to these area.

Full body Fairly obvious. This is where the entire body or multiple body parts are painted.

Brush This the the most common method of applying face paint. It provides fine detail work, is flexible easy to use and transport. One nice thing about the Brush is that is also provides a unique piece of work each and every time. The biggest disadvantage of the Brush is that is takes longer than some other methods to apply.