Stilt Walker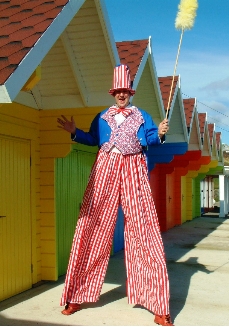 The Children's Entertainer performs stiltwalking on Dry Wall stilts adopting different personas and costumes to suit the event.

The advantage of a stilt walker promoting your event is the ability to be seen from a long distance. Stiltwalking characters include stiltwalking Santa, clown, wizard, medieaval character and chimmney sweep are all available from among others. Ideal as a meet & greet entertainment for your party.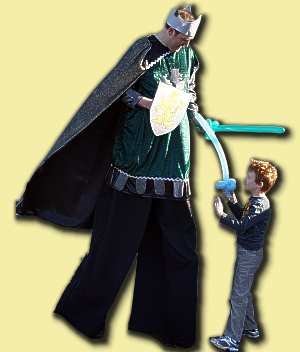 The towering character entertains, balloon models and poses for photos and can seen from a distance to catch attention. Stiltwalking was desvised through nessecity of movement through farmlands. Sylvain Dornon, the stilt walker of Landes, started from Paris on the 12th of March 1891 for Moscow, which he reached after a journey of fifty-eight days.

Although this long journey upon stilts constituted a genuine curiosity, not only to the Russians, to whom this sort of locomotion was unknown, but also to many Frenchmen, walking on stilts, was, in fact, common before the 1870s in certain parts of France.